South Africa
Child labour uncovered in South Africa
afrol News / AENS, 26 May - Children as young as six are being forced to work on farms in the South African province Mpumalanga as part of a deliberate strategy by farmers to use the cheapest and most docile workers available. A police raid on 15 farms uncovered the widespread use of illegal Mozambican child labour.
The children, employed on sprawling citrus and sugar farms in Mpumalanga's fertile Onderberg region, are paid as little as R2,08 per day in return for 12-hours hard physical labour, from sunrise to sunset.
Most of the children and up to 80 percent of the women working on the farms are illegal Mozambicans who can't complain about their working conditions without being deported to impoverished villages in central and southern Mozambique.
Some farmers are so blasé about the abuse that they openly boast about "teaching them young" and using 'baasboys' to beat anyone who complains.
Labour Department inspectors who raided 15 of the Onderberg farms this week were visibly shocked by the children's fatalistic acceptance that they were doomed to a life of literal slavery. "I am revolted. I've been doing this job for years but have never seen children working this young or abuse on this scale," said departmental inspection and law enforcement assistant director Boikie Mampuru.
Mampuru co-ordinated the raids on farms stretching from the Mozambican border at Komatipoort to lush citrus estates bordering the private Marloth Park game reserve near Malelane.
Serious labour abuses were discovered on all 15 farms but Piet Maritz's estate near Marloth Park was cited as the worst example of child labour the inspectors had yet seen. "We don't employ anyone unless they ask us for work, and these children do. This is any case a good way for them to learn how to work while they are still young," insisted Maritz on Thursday.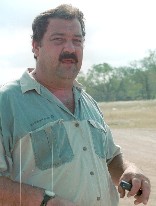 MPUMALANGA farmer Piet Maritz isn't shy to admit that he uses child labour and prefers illegal Mozambican to South African workers. He boasted to Labour Department inspectors this week that "this is a good way for them to learn how to work while they are still nice and young."
Photo: Sizwe samaYende / AENS
- South Africans are also very [lazy] and only want to work in offices these days, so we use these illegal Mozambicans who are very eager to do real work, said Maritz.
The youngest workers on Maritz's farm are a group of girls between six and nine-years old. The girls are used as babysitters for even younger children and are responsible for herding the toddlers around after their teenaged mothers as they pick and package oranges on the estate.
The girls start work at dawn and work the same hours as the adults, knocking off just before sunset six-days a week. None of the girls go to school or receive any kind of formal education.
Twenty-two year old Jeanette Mbiza is mother to one of the babies and openly told inspectors that she was expected to pay her child's minder R50 per month, or just over R2 per day, from her own meagre salary. "I don't have a choice. There is no time during the day for me to look after my baby or even take her to doctors. The farmer deducts R20 [almost two-days labour] if I take a morning off," said Mbiza.
- I only earn R275 per month and breastfeed the baby during my breaks. I know it's not good but it is the best I can do, said Mbiza.Maritz claimed ignorance of laws prohibiting the use of workers younger than 15-years old.
Fifteen-year old Mozambican Julio Mphisa said workers knew they were being ill-treated and underpaid, but were too scared to complain for fear of deportation or beatings. "Life is very bad here. The white [farmers] beat us for even small mistakes and the money is not good. I earn only R100 per month, but there is no other work so we have no choice," said Mphisa.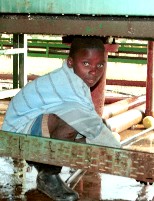 SARESH Milane is only 10-years old but already a veteran worker on Piet Maritz's citrus farm in Mpumalanga. As an illegal Mozambican, Milane says she is afraid to complain about work conditions but says she feels workers should be paid more for working 12-hours per day, six days per week.
Photo: Sizwe samaYende / AENS
Nearby, a 10-year old boy picked oranges but was too scared to speak for fear of reprisals by farm supervisors.
Selina Moyana, 17, has life slightly easier but still works from dawn to sunset six days per week in Martiz's citrus warehouse. "We only rest on Sundays, when we pray for a better life. I earn R276 per month but also get one kilogram of maize meal and some salt," she said.
Maritz insisted his farm paid the highest wages and offered some of the best working conditions in the region. He said that all workers received free accommodation, maize meal, and occasional rice and soya mince packages.
Mampuru and his team were distinctly unimpressed and formally charged Maritz with employing underaged workers and illegal immigrants. Maritz and 14 other farmers were also issued with notices warning them to comply with the Basic Conditions of Employment Act or they would face additional criminal charges.
- It's sad that this raid was so successful, said Mampuru. "The best result would have been if we found no violations and everyone was happy, but we have instead found serious abuses on all 15 farms we visited."
Agri-Mpumalanga Union president Lourie Bosman stressed on Friday that all "decent" farmers disapproved of child labour and the use illegal immigrants. "They will get no support or protection from us. The government must implement the full force of the law," said Bosman.
South African Human Rights commissioner Charlotte McClain expressed shock at the 'feudal' conditions on the farms. "This is completely unconstitutional and illegal. We're glad the agricultural union has reacted so responsibly and is condemning the reported abuses," said McClain.
- But more need to be done, she says. "The Human Rights Commission is launching an 18 month probe into violations against farmers and farm labourers and will be investigating this case as well."
McClain expressed concern, however, that economic refugees from Mozambique were being targeted for exploitation and called for more vigilance.

By By Sizwe samaYende,
African Eye News Service (AENS)

---
© African Eye News Service (AENS).
You can contact us at mail@afrol.com