Swaziland
Swazi queen leaves kingdom in wake of poison claims
afrol News / AENS, 21 April - Swaziland Queen Sibonelo Mngomezulu left the small kingdom for Europe on Thursday night in the wake of allegations that her husband had been poisoned. Swaziland absolute monarch King Mswati III disappeared from public view two weeks ago after a ritual Marula beer festival.
Palace and government officials have refused to release details of Mswati's ailment, but finally confirmed this week that the 33-year old king had been rushed to a private Pretoria clinic for one week before being flown home for treatment by a team of senior Libyan doctors.
The doctors flew almost 6 000km to Swaziland on a specially chartered Boeing 707 to treat Mswati on orders from President Muammar Gaddafi.
Swaziland Prime Minister Sibusiso Dlamini confirmed the extraordinary medical arrangements on Friday, but insisted government was "not aware" that the king was suffering from food poisoning or any other serious ailment.
- It has not been brought to our attention, Dlamini claimed. "I strongly believe that the reports about [food poisoning] are not true. I am optimistic that pretty soon the king will [address] the nation. We are all praying that he gets well soon," said Dlamini.
He declined to say what ailed Mswati or why Mngomezulu and both her children, Princess S'khanyiso Dlamini (13) and Prince Lindani (10), were detained at Matsapha International Airport on Monday.
Mngomezulu is the most senior of absolute monarch King Mswati III's eight wives. She was reportedly driven to the Lozitha Palace and questioned about her role in the suspected food poisoning. Mswati's private secretary Paul Shabangu refused to comment but confirmed that Mswati became seriously ill during a ritual Marula beer festival at his Hlane palace in eastern Swaziland a fortnight ago.
Palace insiders alleged at the time that Mswati complained of stomach cramps immediately after eating a special breakfast prepared by Mngomezulu. He was reportedly too ill to taste the fermented Marula brew at the festival, and was rushed to an unnamed Pretoria clinic shortly afterwards.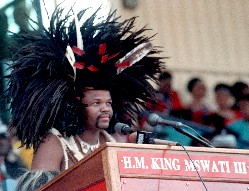 King Mwsati III of Swaziland.
Photo: Steve Hilton-Barber / AENS
Mngomezulu and her children were finally allowed to leave Swaziland for London at 7pm on Thursday night for a 'holiday' with her father, Swaziland High Commission to the United Kingdom Percy Mngomezulu.

Senior airport officials report that a large delegation of royal security officials escorted Mngomezulu to the plane and claim that the atmosphere was "extremely tense".

The trip follows an earlier controversial visit to London, when Mngomezulu flew out of Swaziland without permission from palace authorities immediately after telling a South African magazine that "I don't care what Mswati does with his life". The interview followed allegations that she leaked damaging information about Mswati's youngest wife Senteni Masango's school record for truancy and poor grades to the local press. Mngomezulu stayed in London for two months at the time, before finally returning home just before Christmas.

Swaziland Protocol Chief Mavis Litchfield failed to return numerous calls on the issue this week.

Mswati is not the first highprofile Swazi figure to be incapacitated by a mystery illness. One of his younger wives, Princess Delisa Magwaza, spent five days at the Mbabane Clinic earlier this month for a still unexplained combination of headaches, fever and nausea. The country's police commissioner Edgar Hillary has also been booked off work for over six weeks for an unspecified ailment. There is no indication when he will return to duty and police spokeswoman assistant superintendent Leckina Magagula was unable to say what the ailment was this week.

Swaziland's Queen Mother Ntombi Thwala has meanwhile assumed executive power in Mswati's stead and is ruling as regent until he is well enough to return to the throne.

Mswati has twelve children, 10 of which are girls, but no immediate heir. Both his sons are roughly 10-years old, with his oldest daughter have just turned 13. All the children are too young to assume the throne if Mswati were to die, and the country would instead be ruled by the Queen Mother until a male heir came of age.


By Lunga Masuku, African Eye News Service


---
© African Eye News Service (AENS)
You can contact us at mail@afrol.com