Madagascar
Violence erupts in Madagascar

«I am working on the composition of the new government»
Marc Ravalomanana
afrol News, 25 February - There are first reports of violence in Madagascar after the so far pacifist protests supporting presidential candidate Marc Ravalomanana were prohibited under a state of emergency law. Protesters have attacked a local pro-government broadcaster and politicians.
In the second city of Madagascar, Fianarantsoa, placed on the Imerina plateau south of the capital, first clashes were reported today. The BBC reports that a TV and radio station in Fianarantsoa had been destroyed by supporters of Ravalomanana.
A pro-government MP had also been attacked in the northeast. Military and police troops were set in on several locations, breaking up manifestations in favour of Ravalomanana.
Ravalomanana is reported to remain in the capital, Antananarivo, where he is mayor and where popular support seems close to total. His supporters are defying the curfew and the state of emergency and more or less controlling the city. Barricades have been constructed in front of the opposition leader's house to protect him from a suspected arrest.
Ravalomanana today announced he was now working on "the composition of the new government" led by him. He meanwhile asked civil servants to proceed with the work of structuring the ministries, "in order to prepare the work which awaits the future ministers."
President Didier Ratsiraka meanwhile is reported to have fled the capital and is believed to have arrived at his stronghold in the eastern part of the island. He has not made any public appearances since his Prime Minister, Tantely Andrianarivo, announced a state of emergency late on Friday.
The state of emergency was announced after Marc Ravalomanana "seized power" at a ceremony in the national stadium Mahamasina of Antananarivo. The state of emergency includes a ban on demonstrations and the government may take total control over the media, the post and telephone service.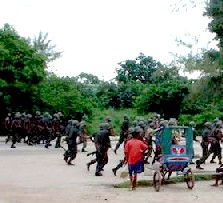 Police forces in Mahajanga on Friday
© Tiako i Madagasikara
The international community reacted negatively to Ravalomanana's "seizure of power" on Friday, maintaining he should have proceeded with the talks mediated by the Organisation of African Unity (OAU). While Ravalomanana called the talks a "complete fiasco", the UN, France, the US and other countries joined the OAU in condemning Ravalomanana's move. The state of emergency declared by Ratsiraka did not meet the same critics.
The independent Malagasy is however more concerned by the state of emergency than by Ravalomanana's move, which "may have gone too far," according to the 'Madagascar Tribune'. The real problem was the state of emergency, which "constitutes a step backwards in terms of freedom and democracy."
The leading Malagasy daily, 'Midi Madagasikara', was also scared by Ratsiraka's "sweeping powers to act in any way he feels like for a renewable period of three months," which might constitute a real danger of press censorship. Both dailies agree the OAU and the West do not understand the situation on the islands and should not have taken a stand in favour of President Ratsiraka.

Sources: Tiako-i-Madagasikara, press reports and afrol archives