Madagascar
Ravalomanana wins international recognition

«President of the Republic»
Marc Ravalomanana
afrol News, 3 July - After last week's recognition by the US Government, Madagascar's President Marc Ravalomanana is treated as the lawful Malagasy by the entire Western world. Even France now officially refers to Ravalomanana as "President of the Republic" and several European governments confirm they are officially cooperating with Ravalomanana's government.
French Minister of Foreign Affairs, Dominique de Villepin, on a visit to the Malagasy capital, Antananarivo, yesterday met with President Ravalomanana and his Prime Minister, Jacques Sylla. Five aid agreements were signed between the French and the Malagasy - i.e. Ravalomanana's - governments. These documents refer to Ravalomanana as "President of the Republic". The Ministry also officially lists Jacques Sylla as Madagascar's "Prime Minister and Head of Government".
The signature of these Franco-Malagasy agreements "indicated the French will to take its full responsibility to help Madagascar getting out of its crisis." The agreements included "economic and social" projects.
With the French acceptance of Ravalomanana's government, Madagascar's major trade partner and source of foreign aid has finally chosen its side. France had earlier been seen as favouring ex-President Didier Ratsiraka - a long time ally to France and the Western world who refuses to accept his December 2001 election defeat. Now, the cooperation between Paris and Antananarivo has however been formalised.
The clearest recognition so far has however come from the US State Department. Last week, US spokesman Richard Boucher said; "We accept his [Ravalomanana's] administration as the Government of Madagascar." The US State Department had also "initiated steps to restore access to Madagascar's funds" at US banks, which had been frozen, following the disputed December 2001 election.
Meanwhile, Europe is accepting Marc Ravalomanana's government as the legal representative of Madagascar in more silent ways. European ministries of foreign affairs interviewed by afrol News however indicate that one cannot expect any clear "recognition statements" saying Ravalomanana is Madagascar's President.
A spokesman of the German Ministry of Foreign Affairs today said that international law knew nothing such as recognition of one person being the Head of State of one country. "One can only recognise a country," the German spokesman said, who therefore was unwilling to answer the question; "Who is President of Madagascar?" He said he "neither would confirm to you that Tony Blair is the Prime Minister of the UK," as this was up to the British people to decide.
Still, he told afrol News that Germany "respects the outcome of Madagascar's elections - as approved by the High Constitutional Court - as being lawful." The Court in April declared Ravalomanana the winner of December's poll. "It is not a question for Germany to decide who is President of Madagascar," he said, adding that this had been decided by the Malagasy people.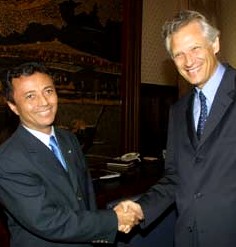 French Minister of Foreign Affairs, Dominique de Villepin, meets with President Ravalomanana in Antananarivo
Photo : © F. de la Mure / Ministère des Affaires étrangères (France)
The German government also cooperates with the Malagasy government of Ravalomanana as it does with any other government, the spokesman said. Only today, the German Ambassador to Madagascar had signed a document with Ravalomanana's government, reducing the country's debt to Germany by euro 25 million, he told afrol News.
The Swedish government is however less willing to indicate its position. Asked who is President of Madagascar according to the Swedish government, Foreign Office spokesman Gösta Grassman only told afrol News that "the Swedish principle is recognising states, not governments. We have already recognised Madagascar."
Grassman cannot confirm any cooperation between the Swedish government and the governments of Ravalomanana or Ratsiraka as Sweden "earlier only has had a very sporadic cooperation with Madagascar and presently does not have any contacts with any party."
As a member of the European Union (EU), Sweden followed EU foreign policies in this case and supported the position that "the conflict in Madagascar should find a political solution." So far, the EU has not signed any bilateral agreements with Ravalomanana's government, but this is "only a question of time", according to other diplomats, not wanting to be named.
Press spokesman Karsten Klepsvik of the Norwegian Ministry of Foreign Affairs presented an explanation. He last week told afrol News that one could not speak of a Norwegian "recognition" of Ravalomanana, but he confirmed that Ravalomanana had been "de facto recognised" by the Norwegian government as President of Madagascar. This however was "not explicitly".
Klepsvik was however clearer than the German and Swedish spokesmen in saying that Norway treated Ravalomanana as Madagascar's President. He also indicated that this was the policy all over Europe, including the EU. Any outspoken "recognition" of Ravalomanana's presidency could therefore not be expected.
Also Switzerland, Australia and Japan de facto have recognised Ravalomanana's government, without making public statements on this. These countries' "recognition" is again read out of the acceptance of the election results and the formal contacts between governments.
The de facto recognition of Ravalomanana by most of Europe and other Western countries however strongly contrasts the Organisation of African Unity (OAU) position on Madagascar's lawful government. On 21 June, an OUA Summit in Addis Ababa had decided that there was now lawful government at all in Madagascar, meaning that Madagascar will be barred from taking part in the upcoming summit to be held in Durban, where the African Union (AU) is to be launched. OAU still is calling for new elections in Madagascar.
The OAU position however seems to be short-lived as Ratsiraka's bid for presidency is not recognised by any party and his position in Madagascar is rapidly dwindling. While pro-Ravalomanana forces are advancing, Ratsiraka desperately has asked for a cease fire. Another sign of his upcoming defeat is that the leader of Ratsiraka's own Arena party publicly has stated his recognition of Ravalomanana's presidency.
Sources: Based on afrol News' interviews and archives