Rwanda
Rwanda gets new flag, national anthem and coat of arms

"Unity of the country, work, patriotism and hope for the future"
New Rwandan National Flag
afrol News, 2 January - On 1 January 2002, Rwanda got its new flag, national anthem and coat of arms. The new national symbols were launched at a colourful ceremony by the President of the Republic of Rwanda, Paul Kagame, on Monday 31st December 2001.
- The new national symbols signify unity of the country, work, patriotism and hope for the future, according to a release by the Rwandan presidency. "They replace the old symbols, which were designed in 1962 at a time when Rwanda was rocked by state sponsored ethnic divisions and killings, human rights violations and bad governance."

"Ethnic divisions and killings"
Old Rwandan National Flag
The National Flag
The national flag is blue, yellow and green in colour. The top half of the flag is blue with the sun in the top right hand corner. Blue signifies peace and tranquility, yellow signifies wealth as the country works towards sustainable economic growth, and green signifies prosperity, work and productivity. The sun signifies new hope and the light it gives signifies transparency.
The new flag was designed by Alphonse Kirimobenecyo, a Rwandan artist and engineer, according to the Rwandan presidency.
The Coat of Arms
The Coat of Arms consists of a green ring with a knot tied at the upper end of the ring. On the top is the inscription 'Repubulika Y'U Rwanda' and below is the national motto 'UBUMWE, UMURIMO, GUKUNDA IGIHUGU' or 'UNITY, WORK, PATRIOTISM.' Other features of the Coat of Arms are the sun, sorghum and coffee, a basket, a cog wheel and two shields.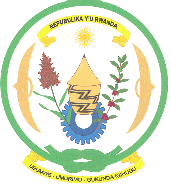 "Unity, Work, Patriotism"
New Rwandan Coat of Arms
The green ring and knot symbolise industrial development through hard work. The shields symbolise patriotism, defence of national sovereignty and integrity and justice.
The National Anthem
The National Anthem, 'Rwanda Nziza' is composed in four stanzas, which highlight heroism, the Rwandan culture and the peoples patriotism. The words are by Faustin Murigo of Karubanda prison in Butare Province. The tune is by Capt. Jean-Bosco Hashakaimana of the Rwandan army brass band.
Need for new symbols
As the short government presentation indicates, the nation was in need of new national symbols. The transitional government, headed by President Paul Kagame, has followed a policy of breaking with the country's troubled past. According to official history writing, a policy of consciously producing two opposing ethnicities, Hutus and Tutsis, was introduced by the Belgian colonial power in the 1950s and was pervasive during the old Republic. This finally caused the Rwandan genocide, killing almost one million Tutsis and moderate Hutus.
Kagame is heading a transitional government of "National Unity", which is to lead the country into democracy within few years. The new national symbols introduced with the New Year are part of the government's "revolution from above".

Sources: Rwandan Presidency and afrol archives