Ethiopia & Sudan
All Ethiopian Mengistu refugees returned from Sudan
afrol.com, 14 March - The last group of Ethiopian refugees who fled their country during 16 years of the Mengistu military dictatorship that ended in 1991 were returned home this week. A total of 10,700 Ethiopian refugees have returned home in this repatriation operation.
The United Nations refugee agency, UNHCR, led the operation, which began in December after UNHCR invoked the "cessation clause" (ruling that as a group, they no longer had compelling reasons to fear return) in respect to Ethiopian refugees who fled their country during the Mengistu regime. Carrying 700 people from the Sudanese capital, Khartoum, to Ethiopia yesterday, it was the last UNHCR-led convoy for Ethiopian refugees who fled the Mengistu rule during the 1970s and 1980s.
The refugees had been gathered in the Red Sea town of Port Sudan to board trucks to take them back to Ethiopia. Here, they were bracing themselves for an arduous three-day journey in open trucks. "On the day they left, the Sahara was as brutal as ever, blowing hot wind and dust toward the Red Sea," UNHCR officials reported.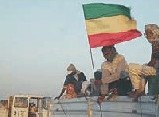 Ethiopian refugees on open trucks, taken back to Ethiopia. Photo: UNHCR
Mengistu-era refugees were given the guarantee of going back to Ethiopia without fearing persecution. However, about 4,000 refugees from Ethiopia who were unwilling to return home have approached UNHCR and the Sudanese government seeking permission to stay on in Sudan.
The story of the pre-1991 Ethiopian refugees is of one of the world's oldest exile populations. Some of the refugees came to Sudan as teenagers, grew into adulthood and have become parents themselves. Others were born in Sudan, sometimes to Sudanese, but also to other nationalities, including to Eritrean mothers or fathers. Some have been in exile for more than 30 years.
Many of these Ethiopians are facing tough dilemmas, and few are going back without hesitation. Some are in the midst of university studies and cannot switch to the Ethiopian educational system. Others have found jobs in Sudan and are uncertain whether they will be able to find work back home in Ethiopia.
Hundreds of thousands of Ethiopians fled the terror of the Mengistu dictatorship. These refugees have slowly repatriated since that government collapsed in 1991, including 83,000 from Sudan and 80,000 from Kenya under UNHCR operations.
Sudan, a nation torn by civil war and plagued by natural disasters, has hosted Ethiopians and Eritreans for decades. But it has no provision to integrate foreigners, regardless of how long they have lived there. This makes return the only viable option for Sudan's remaining Ethiopian and Eritrean refugees. UNHCR has been negotiating with Sudan, Ethiopia and Eritrea for much of the last decade to resolve the Horn's protracted refugee crises.
Although many Ethiopians have had mixed feelings about preparing to end years of exile in Sudan, some were anxious to leave. Belanishe, a 32-year-old woman clutching a 5-month-old baby, had a swelling black and blue eye on the day of her departure. Giggling, she first said she had fallen.
Then she changed her story, acknowledging that her decision to return had split her family apart and resulted in her black eye. "When my husband Daniel saw that I was serious with my plans of returning to Ethiopia together with the baby, he got so angry that he punched me in the face," she said. "But it has been so long since I have been home that no one will stop me."
The couple cannot go to Ethiopia together because Daniel is from Eritrea, a country that finished its second war with Ethiopia last year. He fears that his life would be in danger if he went to Ethiopia now. On the eve of his wife's departure Daniel was torn. He wanted the baby to remain with him in Port Sudan because he feared that he might lose it if Belanishe decided to take the baby to Ethiopia.
At the same time, he recognized that he could not look after the baby on his own. "I will wait for the day Eritreans will be repatriated and I will also return home," Daniel told a UNHCR official. "When we finally have peace between Ethiopia and Eritrea, I will then go to Ethiopia and get my family. If I go today, I will be suspected of all sorts of things."
Some 200,000 Eritrean exiles like Daniel remain in Sudan. Organizing their return is now UNHCR's main regional focus, the UN agency reports.

Source: Based on UNHCR


---
© afrol.com. Texts and graphics may be reproduced freely, under the condition that their origin is clearly referred to, see Conditions.
You can contact us at mail@afrol.com