Uganda & Rwanda
Deep-seated animosity between Rwanda and Uganda
Misanet.com / IPS, 15 November - Britain may have succeeded in negotiating a truce between Uganda and Rwanda, but it has done nothing to resolve the deep-seated animosity between the two former allies. The two countries need to pull out of the war in neighbouring Congo Kinshasa (DRC) - from which their rivalry stems - to conclusively end the feud.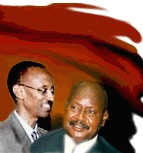 The threat of fresh bloodshed reappeared in August, when President Yoweri Museveni wrote to British International Development Secretary Clare Short complaining that Rwanda was preparing to attack Uganda.
He said Rwanda was using dissident Ugandan army officers to recruit and train young Ugandans, using three camps in Rwanda and one in Congo.
Museveni fears that a new rebel group, the People's Redemption Army, and the largest Congolese rebel group, the Congolese Rally for Democracy, both backed by Rwanda, are planning to attack Uganda via Congo.
Uganda started withdrawing from Congo in April. But it is nervous that Rwandan-backed troops will move into the areas it is vacating. Meanwhile, Rwanda alleges that Ugandan troops are moving closer to the territory that it occupies, contravening a peace accord drawn up in the Zambian capital, Lusaka, last year.
Both governments accuse the other of harbouring dissidents from their own countries, aimed at unseating them. Ugandan President Museveni said Rwanda's Paul Kagame was trying to impose a "quisling regime" on his country, by funding Dr. Kizza Besigye, Museveni's main rival in March's presidential poll.
At a meeting in London on Nov 6, Museveni and Kagame agreed to "maintain and improve relations and stop dissidents from either country from using their host (as a base) to destabilise the other."
The setting up of a mechanism under which disputes can be referred to a third party is a positive step forward, as is the plan for an extradition treaty to bring justice to any trouble-making elements.
But regional observers are cynical. "The impression one gets from agreements such as these is that the negotiations were neither conclusive nor to the satisfaction of both parties."
- It is probable that the two countries have been signing protocols for the sake of reaching agreements without addressing the critical issues that are at the root of their differences, says an editorial in the East African newspaper.
- However promising agreements may appear on paper, it takes great resolve to get them working. Museveni, Kagame and their advisors must make an effort to get out of the current mindset whereby each side reads ill motives in the other's every move, it advises.
It is not the first time the two countries have promised to bury the hatchet. Their armies first clashed in the Congolese city of Kisangani in August 1999. Two further battles over the past two years have left the beautiful city in ruins.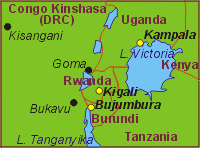 Analysts predict there could be more fighting in eastern Congo, where rival rebel groups backed by Rwanda and Uganda are struggling for supremacy.
- The possibility is that the confused situation in North Kivu would degenerate into direct fighting just like in Kisangani. That is still a very likely scenario, warns Francois Grignon of the Brussels-based International Crisis Group think tank.
- It boils down to a family quarrel, a feud, says Grignon. "Kagame will not accept the patronising attitude of Museveni, while Museveni sees Kagame as rejecting the umbrella of Ugandan protection. This is seen as a betrayal by Uganda.
Museveni and Kagame started out as comrades in the bush, as part of the guerrilla army that brought Museveni to power in Uganda in 1986. Museveni went on to support Kagame's sweep into Rwanda in 1994, when Kagame's Rwandan Patriotic Front seized control from the genocidal regime in the Rwandan capital, Kigali.
It was the decision to jointly invade Congo, with the aim of toppling then President Laurent-Desire Kabila, that proved their undoing. Disagreements over the conduct of the war resulted in the two leaders lending their support to different Congolese rebel groups.
Competition over the spoils of war in the vast mineral-rich country soured relations even further, leading to the Kisangani battles. Some argue that it is Uganda's humiliating defeat in Kisangani that is the source of Museveni's bitterness towards his former partner.
Pride clearly continues to feature strongly in the feud. ''We will continue to fight to prevent Rwanda and its leadership being looked down upon,'' Kagame said at the London meeting.
In the next phase of the United Nations Mission in Congo, known as MONUC, all foreign forces are expected to pull out. A recent resolution called for the disarmament of rebel soldiers, demilitarisation of Kisangani and the start of a direct dialogue between Congo and Rwanda.
Rwandan-backed rebels are occupying Kisangani and refuse to return it to civilian rule. Rwanda says it will not pull its troops out of eastern Congo until it has guarantees that Rwandan rebels are no longer using Congo as a base from which to attack Kagame's regime in Kigali.
These are the key issues the international mediators need to address to build a lasting peace in the Great Lakes region. The Great Lakes Region comprises Rwanda, the Democratic Republic of Congo, Tanzania, Burundi and Uganda.

By Katy Salmon, IPS