Country Map · Equatorial Guinea

Equatorial Guinea - basic geographical notes
Location: Central Africa. Continental part (Río Muni) bordering Atlantic Ocean (west), Cameroon (north) and Gabon (south and east).

Capital: Bata (before 2000, Malabo)

Surface: 28.051 km2

Population: 400.000, whereof 42% urban. 2,5% annual increase.

Population density: 14,26 person/km2

Paved roads: 50 km

.

.

.

.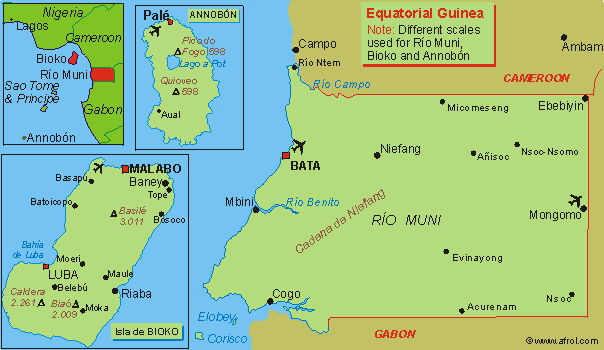 Size: 14 kb
Would you like to copy and use this or other African maps?
-You are welcome! On afrol ClipArt there are lots of maps in all colors and sizes you may download/save for free. The basic ones, you may republish as you please, the more elaborated ones may also be republished for free, but require a copyright note. GO!
---
Related links:

---
© afrol.com. All rights reserved.
You can contact us at mail@afrol.com