Somaliland - Somalia
Somaliland awaits international recognition 'very soon'

«This country is going to be the first African economic tiger.»
Mohamed Ibrahim Egal
afrol.com, 6 February - Mohamed H. Ibrahim Egal, President of the not-recognised state of Somaliland, this week claimed that the first countries are ready to recognise his country "very soon" in an interview. Somaliland, or former British Somalia, in practical terms has been independent for ten years and stands a good chance of a successful secession from Somalia (former Italian Somalia).
The British broadcaster BBC this week interviewed President Egal in "his modest house" in Hargeisa, the national capital of Somaliland. Egal made headlines when he boycotted the Somali peace negotiations in Djibouti in September 2000, making made it crystal clear that Somaliland would not be part of a new Somalia. "As far as we are concerned, we have nothing to do with [the Somali capital] Mogadishu," he told the BBC.
Somaliland emerged out of the armed struggle against dictator Siad Barre, and the new state was able to escape the civil war and chaos that the remaining Somalia lived through in the 1990s. Starting out from ruins and without any resources, Egal's state has done amazingly well. Now, however, that the limits of being a not-recognised state are becoming all too obvious, diplomatic effort to gain recognition are being enhanced.
Before the civil war, foreign livestock sales used to bring in 70-90 per cent of Somalia's export earnings. These exports predominantly were from the north, and until recently they also constituted the main foreign exchange income of Somaliland. This changed when Saudi Arabia in September banned Somaliland livestock imports, claiming the livestock was infected with Rift Valley Fever. Although Somaliland livestock now has been cleared of the disease, imports are still banned and other export markets are difficult to find for the unrecognised country.
Being a predominantly Muslim country, Somaliland so far has searched for potential collaborators in the Arab world. Egal's government now suggests it might be equally promising searching for contacts in Israel, and Israeli traders already have visited Hargeisa. There are thus speculations that Israel might be the first country to recognise Somaliland, if Egal's strategy does not have the effect of scaring Arab states into recognising Somaliland first.
Somaliland is in the fortunate position of having a short history of post-colonial independence and colonial borders to show to, making an international recognition a diplomatic possibility. Somaliland achieved its political independence from Britain on 26 June 1960. On 1 July 1960, it joined the former trust territory of Italian Somalia as equal partners to form the new state of the Somali Republic. "Contrary to our high hopes and aspirations, the political union turned into a nightmare," in Egal's words.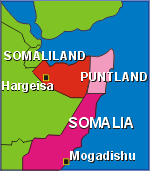 «As far as we are concerned, we have nothing to do with Mogadishu»
Mohamed Ibrahim Egal
These few days of independence, and the fact that British and Italian Somalia were two colonies, makes the Somaliland claim an option that has to be taken seriously. With the ancient colonial borders being sacrosanct in Africa, the only "separatist" states that have achieved recognition by the Organisation of African Unity (OAU) so far are Eritrea and Western Sahara. Other sovereignty claims have been turned down or even sanctioned, such as the Comoran island of Anjouan, which has been independent for four years. Somaliland is in a situation parallel to Eritrea - which however first was recognised by Ethiopia, the country it seceded from.
The United Nations and the OAU are still refusing to recognise Somaliland, but they have provided an opening. The UN attitude is that the fulfilled secession was not legal, as there was no working state to secede from. In so far, the UN demands that Somaliland first has to return to Somalia to be able to formally dissolve the political union of 1960.
This is not an option to the Hargeisa government. The government of President Egal is continuing on its road to strengthen national institutions. On 27 January, the president informed the Parliament that a referendum on the future constitution of the country would be held before the end of March. The planned referendum would however not include an option of returning to Somalia.
Likewise, Somaliland is preparing for the forthcoming presidential election. Last week, on the occasion marking the second anniversary of the establishment of the national armed forces, President Egal made public his intention to stand for reelection. Egal was first elected President of Somaliland at the Boroma conference of clan leaders in 1993 and reelected in 1997.

Since the establishment of Somaliland in May 1991, all institutions of a national state have been carefully introduced. The country has its own efficiently running legislative, executive and judiciary powers. It has its own coinage, flag, numberplates, passports, Internet services and so on. Although Somaliland has a liaison office in Washington, the only institutions missing are real foreign representations and embassies in Hargeisa.
The two things most threatening to destabilise this stable country are possible hostilities with Somalia and the lack of funding due to the non-recognition. The new Somali government has shown no intentions of recognising Somaliland. On the contrary. The Hargeisa government claims that Somalia is planning the forceful subjection of Somaliland. There have been no contacts between the governments in Hargeisa and Mogadishu.
Economic fears, however, are greater in Hargeisa than fears of a Somali invasion. A great deal of the disarmed militiamen were promised vocational training, but are still in the streets. "They have been very patient with us so far, and we have done very little," Egal admitted in an interview given one year ago. And that situation has not changed. "If these people are disappointed and feel they should go back to the roads and living by the Kalashnikov, well, then all the things we have built up here will go down the drain," Egal said.
Optimism still prevails, however, as ten years of independence without recognition and international aid have produced such visible results. With the firm belief in an international recognition "very soon", President Egal told the BBC that "this country is going to be the first African economic tiger - that's our ambition and we are going to achieve it."

Sources: Based on BBC, Somaliland Government and UN sources.

---
© afrol.com. Texts and graphics may be reproduced freely, under the condition that their origin is clearly referred to, see Conditions.
You can contact us at mail@afrol.com