Somaliland - Somalia
Somaliland referendum tainted by arrest of oppositional
afrol News, 1 June - An outstanding oppositional politician of the secessionist republic of Somaliland, former presidential candidate Suleiman Mohamed Adam, remained arrested during the 31 May referendum over the new Constitution and over independence. Human rights group protest his detention.
- President Muhammad Ibrahim Egal of Somaliland should immediately and unconditionally release former presidential candidate Suleiman Mohamed Adam, the human rights group Amnesty International reiterated yesterday.
Suleiman Mohamed Adam, 66, is considered by Amnesty International as a prisoner of conscience, "detained solely on account of his non-violent opinions and for peacefully exercising his rights to freedom of expression and association."
He was arrested at the airport of the capital Hargeysa on 22 May 2001. He has not so far been taken to court or charged with any offence, in contravention of the international legal requirement that a person suspected of a criminal offence should be brought to court and charged within 48 hours, according to Amnesty.
According to unofficial reports Suleiman Mohamed Adam appears to be accused by the authorities of "treason" or "plotting to sabotage a planned referendum" that was held yesterday, 31 May 2001, on amendments to Somaliland's Constitution. He is said to have also been accused of having met in Djibouti with President Ismail Omar Guelleh, who is known not to support the referendum.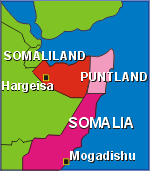 Suleiman Mohamed Adam was held in incommunicado detention for seven days. On 30 May he was finally granted access to a lawyer. However, prison guards refused to allow them to communicate in confidence. Both Suleiman Mohamad Adam and his lawyer refused to talk in the presence of prison guards. He has not been allowed access to his family or medical treatment.
- The illegal detention of this prisoner of conscience puts in jeopardy everyone's right to freedom of expression and association in Somaliland, Amnesty International said.
Somaliland is struggling to achieve international recognition of its unilaterally declared independence (in 1991). Significant achievements by President Egal's government - peace, stability and economic boom - that strongly contrast the negative trends in Somalia proper over the last ten years, have been Egal's best cards in his bid for recognition.

Human rights abuses have to a very small degree been reported from Hargeysa so far, also contributing to Somaliland's increasingly positive reputation. Reports of intimidation of the opposition in Somaliland therefore highly endanger the government's chances of international recognition.
The results of yesterday's referendum are still not known. The government could however enjoy a high turnout, long queues of voters yesterday being observed around polling stations in Hargeysa. Voters interviewed at the stations generally expressed their excitement and said that they had turned out to vote "yes" for the "motherland", according to the UN media IRIN. A massive support for Egal's proposals is thus expected.

Sources: Based on Amnesty International, UN sources and afrol archives

---
© afrol.com. Texts and graphics may be reproduced freely, under the condition that their origin is clearly referred to, see Conditions.
You can contact us at mail@afrol.com