Somaliland - Somalia
Somaliland referendum "impressingly free and fair"
afrol News, 8 June - In a statement released yesterday, the US-based Initiative and Referendum Institute (IRI) deemed the 31 May Somaliland referendum as free and fair. Observers had been "impressed by the level of effort in which Government and the people put forth in seeing that the election was conducted in a fair and open manner."
IRI's statement, "on behalf of the American, Swiss and British observation team," further expressed its "deepest appreciation to the Somaliland Government and people for their help and support during our visit," in a statement generally very favourable towards the Somaliland government.
The election observers also commended the Somaliland government and the citizens "for conducting this election free of violence" and commended the neighbouring governments "for not interfering with Somaliland's efforts at becoming a true Democracy."
- This election demonstrated the Somaliland Government's understanding that no government can be considered legitimate without allowing the citizens the opportunity to freely show their support or opposition to the proposed constitution and the rules and procedures in which the government will operate, the statement says.
The 11-person team of election observers, which travelled to a number of regions, consisted of American, Swiss and British observers. The Somaliland government said on 5 June that over 97 percent of voters had endorsed the new Constitution.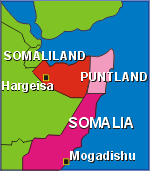 The final report analysing the election will first be issued over the coming weeks, but the preliminary analysis concludes positively. "No election is problem free and this election was no exception, but based on our initial observations, the election seems to have been conducted in a manner that was consistent with recognized international practices for referendum elections."
However, IRI said it was too early to definitively state whether or not the referendum on the constitution, which included an article on independence, had achieved its goal. The institute hoped its final report would "help [Somalilanders] in their struggle" for international recognition and was "wishing them well".
The institute had been approached to observe the referendum and financed by the Somaliland Forum, a Diaspora group campaigning for the international recognition of Somaliland's independence. The travel and accommodation expenses of the IRI team were also paid by the Somaliland Forum.


Sources: Based on IRI, UN sources and afrol archives

---
© afrol.com. Texts and graphics may be reproduced freely, under the condition that their origin is clearly referred to, see Conditions.
You can contact us at mail@afrol.com