Somaliland - Somalia
Somaliland oppositional released
afrol News, 6 June - The outstanding oppositional politician of the secessionist republic of Somaliland, former presidential candidate Suleiman Mohamed Adam, on Tuesday was released on bail. He had spent two weeks in jail, hindering him in participating in the Somaliland independence referendum on 31 May.
Suleiman Mohamed Adam, 66, also known as Suleiman Gaal, had been arrested on 22 May on arrival at the airport of Hargeysa, the Somaliland capital, and was reportedly accused by the authorities of "undermining Somaliland" by holding a meeting in Djibouti with President Ismail Omar Guelleh. Djibouti firmly supports the Mogadishu government's claim of representing all Somalia.
He was also accused by the authorities of "treason" or "plotting to sabotage a planned referendum" that was held on 31 May 2001, on amendments to Somaliland's Constitution. The referendum was a great success of the Hargeysa government, as over 97 percent had voted in support of the amendments.
Suleiman Mohamed Adam's detention had provoked international protests. He had been held in incommunicado detention for seven days. On 30 May he was finally granted access to a lawyer. However, prison guards refused to allow them to communicate in confidence. Both Suleiman Mohamed Adam and his lawyer refused to talk in the presence of prison guards.
He was not allowed access to his family or medical treatment. "The illegal detention of this prisoner of conscience puts in jeopardy everyone's right to freedom of expression and association in Somaliland," Amnesty International recently complained. The human rights group considered Adam as a prisoner of conscience.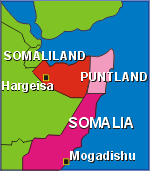 Somaliland is struggling to achieve international recognition of its unilaterally declared independence (in 1991). Significant achievements by President Egal's government - peace, stability and economic boom - that strongly contrast the negative trends in Somalia proper over the last ten years, have been Egal's best cards in his bid for recognition. The detention of opposition politician Adam however for the first time gave Egal negative international headlines, which might have contributed to his quick release.
Suleiman Adam is well known throughout Somalia. He served as a Minster in both the Somali Siyad Barre regime and the Somaliland administration. He was among the Somali National Movement (SNM) leaders who in 1991 declared the independence of Somaliland. Adam came second to President Muhammad Ibrahim Egal in the 1997 presidential elections.

Sources: Based on Amnesty International, UN sources and afrol archives

---
© afrol.com. Texts and graphics may be reproduced freely, under the condition that their origin is clearly referred to, see Conditions.
You can contact us at mail@afrol.com