Somaliland - Somalia
Somaliland welcomes refugees home

«Peace and land is all that we have»
President Dahir Riyale Kahin
afrol News, 3 June - The recently named President of Somaliland welcomes the first thousands of returning refugees. There is not much to offer them, though, he laments. Not being recognised by the outside world, the economic situation of peaceful Somaliland is troubled.
- Peace and land is all that we have, all we can offer them, said the President of Somaliland, Dahir Riyale Kahin, on receiving the first 1,500 returning refugees. "Our country has no economy, so there are a lot of problems, but it is a must to receive them since they are our citizens," he added. Somaliland is indeed the peaceful corner of Somalia.
The UN refugee agency UNHCR has started this year's first voluntary repatriation. "A UNHCR-led convoy of 27 trucks and nine buses, carrying around 1,500 refugees, wound its way across inhospitable desert terrain from Rabasso camp in eastern Ethiopia," the agency reports. A few days later, a second convoy left the nearby Camoboker camp with a further 2,000 returnees on board. Both camps are set to be closed by the end of the year.
Although the UN agency is careful to note it is reporting from "North-west Somalia", it respectfully names Kahin "the President of Somaliland". Several UN agencies are involved in Somaliland as it is the only part of disrupted Somalia that is peaceful enough to have local UN staff in place. It is close to recognition, but it isn't.
Thousands of refugees have returned to Somaliland in recent years. "This is a sign of hope because it shows the confidence of the people in north-west Somalia," says Simone Wolken, who heads 'UNHCR Somalia', located in Hargeisa, Somaliland. "Peace and stability have really returned to their home areas. They now look forward to recovery assistance from the international community so as to be truly able to contribute to the rebuilding of their societies."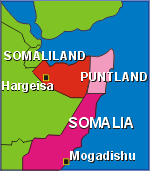 Last year, more than 50,000 Somali refugees – mainly from camps in Ethiopia – returned to north-west Somalia, leading to the closure of three of the eight camps for Somalia refugees in Ethiopia, the UN agency reports. "The closure of two more camps this year will allow for the consolidation of the remaining refugees into three camps."
In total, the voluntary repatriation programme now underway plans to take around 35,000 refugees home by the end of this year. "We are very pleased with the process of repatriation," said Wolken. "Reintegration, however, remains a real challenge."
According to the agency, unemployment rates are around 90 percent in the areas where the returning refugees are settled. UN statistics show that in the resettlement camps around Hargeisa, almost half of the residents eat meat only once a month or less, and two out of five families report never buying milk.
- The few facilities available have been provided mainly by UNHCR, the agency states. Such activities form part of UNHCR's wider mandate to facilitate refugee returns. Working with local and international non-governmental organisations, UNHCR has built schools, sanitation plants and health clinics, but says much more needs to be done if the challenge of repatriation is to be met.
The government of Somaliland - working closely together with the UN agency - on the other holds that the real problem is the failure of the international community to recognise the country's independence. Even without recognition, Somaliland has become a stable and economically sound oasis in war-ravaged Somalia, but traditional financing channels are non-existent.

Sources: Based on UNHCR and afrol archives